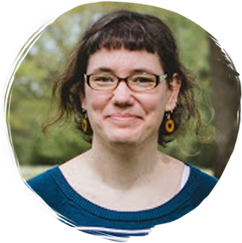 Amelia Reising
Founding Director, Board President
Amelia is an Oregon native and a former bookseller and display artist who graduated with a BA in Art from UO. She first studied art and costume design at SOSC in Ashland with costume designers from the Oregon Shakespeare Festival. Amelia's post-graduate studies were focused in non-profit management. Past work as a bookseller, display artist, book cover designer, costume and prop-maker, and bookstore event planner have informed her work at Adventure! She is currently on the board of Lane County Cultural Coalition and volunteers as a mentorship coordinator at a local middle school. She has formerly volunteered as Secretary of a local PTA, has read stories to children in parks through the United Way, worked as a long-term substitute preschool teacher at a local preschool co-op, and creates public chalk art and artwork for benefit art shows whenever possible. Together with her teenage son and her spouse of twenty years, Amelia enjoys geocaching, making things, hiking, and road trips. She sometimes freelances in cover and marketing design for local organizations.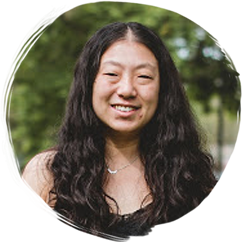 Kami Hendrix
Secretary, and IDEA Committee Chair
Kami is a California transplant to Oregon. She holds a music degree from University of the Pacific and a Masters from the University of Oregon. She currently teaches private music lessons and teaches music in the Bethel School District. Kami lives in Eugene with her husband and two awesome sons. She is proud to be the board Secretary of ACM and eager to help facilitate a children's museum locally for children to explore. She is an active volunteer with Eugene Asian Celebration and has served on the boards of Eugene's Parent-Child Preschool, Mom's Club, and Tiny Tots Playground. Kami has also volunteered as PTO Secretary for her sons' Japanese language immersion school, performs with a local choir, and has a passion for community and children's causes. Kami has been a member of A!CM's board of directors since the project's inception in 2015.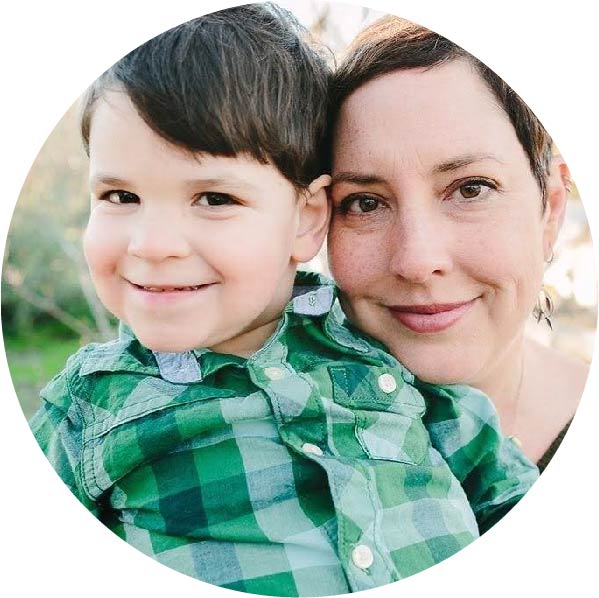 Krystal Elms
Treasurer, Budget Committee co-chair, and Five-Year Planning Committee Chair
Krystal is an organizer at heart with a background in a variety of industries. She has a degree in Biology and Chemistry from the University of North Texas (Go Mean Green!) and has worked in technical theater, outdoor recreation, biotech, and medical. Project management and operations are near and dear to her heart, as are her husband and young son. She has served on the board of the Eugene chapter of MOMS International (disbanded as of 2020), serves on the boards of MAEVE Eugene and Little Hands Can, served as Den Leader to a local Cub Scout group, and volunteers regularly around town. In her spare time she loves to craft, read, learn about bees, and support local organizations.!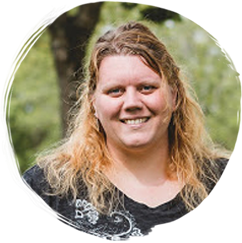 Christine Adams
Board Member and Five-Year-Planning Committee 
Christine is a mother of two young children, a vocation aided by her training and background in large animal management and husbandry. Though she worked for years caring for large cats (lions and tigers) in other states, locally, Christine has volunteered with the Cascade Raptor Center and has fostered shelter animals. Her volunteerism has extended to the classroom as a parent-teacher at a local preschool co-op, where she also served on the board of directors. At her children's Spanish language immersion school, Christine serves in parent leadership and heads up various fundraising efforts. Christine's humble service to her community has continued at Adventure! since very early on in the project; she joined the board just a few months after the board formed, and was instrumental in establishing our first museum space at the Valley River Center. She has also been a staunch advocate of networking with other museum folks, convincing the board to join the Oregon Museums Association and attend conference sessions to help us grow in expertise and connections.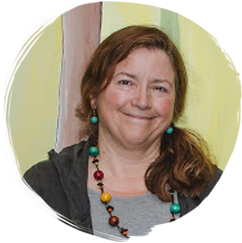 Tanja Petal
Board Member, IDEA Committee
Tanja owns a small, mobile bookstore specializing in multicultural books for children. Through school book fairs, fundraisers, community events, and teaching workshops in cultural and reading literacy, she's actively engaged in bringing cultural awareness to her community. Her educational background is in general science and from Oregon Institute of Marine Biology. With her spouse and their son, she likes to explore, hike, garden, cook, and celebrate with family and friends. Through international travel and hosting foreign exchange students, she's experienced many different lifestyles and learned the deepest humility and respect for cultures different from her own. Detail-oriented, and with a shared passion and vision, she is thrilled to serve on the board of ACM!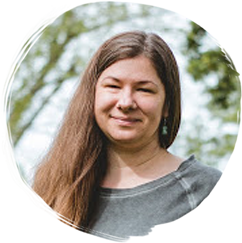 Denicia Ahrenholtz
Board Member and Grants & Fundraising Chair
Denicia is an Oregon native who has traveled and lived in various other locales far and wide, before coming home to roost. Nicia has a background in art and literature and has a passion for making things. Her current work at a tech company requires her to be an adept problem-solver and team coordinator, making her an excellent fit for our board of directors. Nicia lives with her husband and two children, who share her love of creating things and her excellent imagination. Denicia has taken an active role in helping design, implement, and adapt exhibits in our expansion area.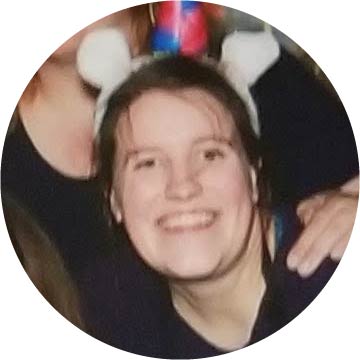 Kendra Henriksen
Board Member, IDEA Committee
Kendra is an Oregon native who attended high school in Corvallis and the University of Oregon in Eugene. She has worked with children in many of her past jobs, and currently works with young adults as a teacher in an alternative education program. Kendra generously volunteered with Adventure! Children's Museum at special events for more than two years before being elected to the board of directors (pictured here at our Family Halloween event in 2019).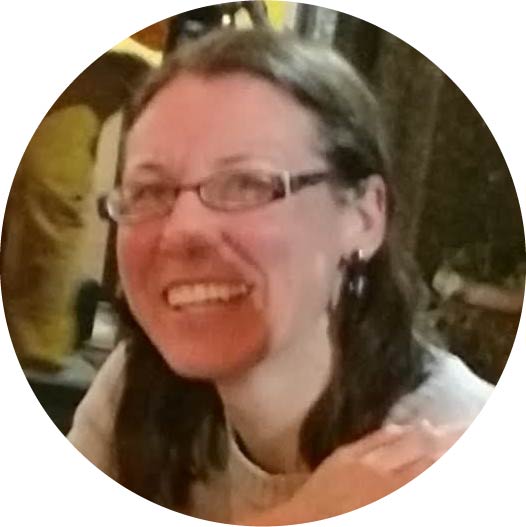 Stephanie Barber
Board Member, IDEA Committee
Stephanie grew up on the east coast but has been an Oregonian for over a decade, pursuing her M. Ed. at the University of Oregon and dedicating her energy and expertise to local museums and education efforts. She currently works with an organization that teaches job skills to and supports workers with disabilities. Stephanie began volunteering with Adventure! Children's Museum in early 2019 and joined our board of directors soon after. Stephanie and her family live in Eugene.
YOUTH ADVISORY BOARD
Our youth advisory board is intended to give children and teens a voice in how the museum grows and changes over the years. They will be invited to give feedback on current exhibits, offer ideas for new exhibits, and even volunteer in the museum to help create exhibits and materials for our visitors! Please visit our Events page for info about our next Youth Advisory Board meeting!