The Spirit of Adventure!
ADVENTURE! CHILDREN'S MUSEUM IS CLOSED BEGINNING MARCH 24TH
DUE TO STATEWIDE COVID-19 MUSEUM AND MALL CLOSURES ORDERED BY GOVERNOR BROWN.
Any families who have paid deposits on parties at the museum should contact us via email at AdventureChildrensMuseum@gmail.com to inquire about rescheduling or applying the deposit towards museum membership or passes.
All current memberships will be extended upon request. Renewals will be dated the day the museum reopens, and extend for one year + one month after that date.
* * * * * * * * * * * * * * * * * * * *
WHAT WE STAND FOR:
As children, we all have those sparks of curiosity, the thrills of discovery, the wondering, "what if'. We all have places that affect our perspective, and people who inspire us. If we're lucky, these things stick with us our whole lives, making us bolder and braver, leading us to our passions and potential. What were yours? What are your children's? What places have you visited that are still a part of you? Whose stories inspire you?
Our mission is to create an environment dedicated to the spirit of adventure in every child, and to help grow inquisitive young minds into travelers, explorers, artists, and innovators.
play & learn
START 360°




TOUR & VR EXPERIENCE
Wall through our exhibits in an online 360° panoramic view or even a Virtual Reality (VR) mode with your child to stimulate her or his imagination! Our VR is compatible with most modern computer and mobile devices. We would love to hear from you what you think!
START A TOUR »
LAUNCH VR »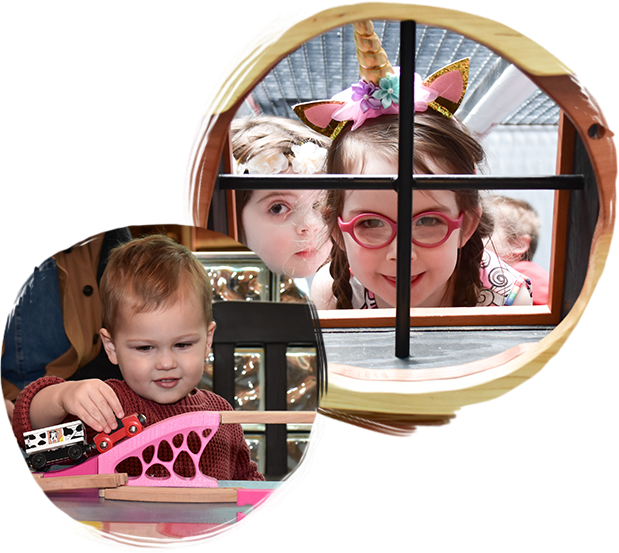 Our Commitment to Health and Safety: Our staff is dedicated to helping your family stay healthy and play safely. We clean Adventure!'s surfaces multiple times per day, using a variety of cleaning and sanitizing products. We sanitize high-use items several times per day, and every item in the museum is cleaned at least once per week. With concerns high due to Coronavirus Covid-19, we are increasing our cleaning rounds. As a result, the museum is cleaner than many other public places. We are working hard to keep your family safe.
You are the reason Adventure! exists, and we appreciate your help in keeping our museum at its best.
To Play or Not to Play: For your safety, and the safety of others, kindly stay home if you or your child are experiencing a fever with cough, shortness of breath, or other flu-like symptoms. If a visitor appears noticeably ill with flu-like symptoms, they may be asked to return home for the well-being of all guests. Allergy sufferers may be asked to confirm they have no fever. Coughs and sneezes should be caught in an elbow or tissue, and hands washed or sanitized. Thank you for helping us to maintain a clean and safe environment!
Hand-washing Guidelines: Adventure! has hand sanitizer dispensers posted in five places throughout the museum. We encourage visitors to sanitize their hands upon entering and exiting the museum. Hand-washing with soap and warm water is even more effective than hand sanitizer! We have restrooms on-site that are sanitized multiple times a day, and we welcome you to wash up whenever you need.